Top Ten Tuesday is a weekly feature from the lovely people over at The Broke and the Bookish. Each week, there's a different theme that we make lists revolving around, and then we share it with each other. It's an awesome feature that I love participating in whenever I get the time! This week, the theme is all about TV shows, since the fall season is just around the corner. I was beyond excited for this topic because I honestly watch so much TV. Though it was difficult to pick, I decided to make my topic about some of my favorite shows of all time. A few of these are shows that I've recently loved and watched, but I'm not sure if I would consider it to be an all time favorite, I'm just thinking about it's still fresh in my mind. Anyway, I hope you enjoy my list and I look forward to reading yours as well.
1. One Tree Hill
This is a guilty pleasure show that I can't help but love. Though it definitely goes downhill in later seasons, this is still an incredible show filled with lots of romance, drama, and general teen angst all around!
2. Friday Night Lights
Clear eyes, full hearts, can't lose. Friday Night Lights is just one of those shows that I'll always love no matter what. If you're not a fan of football, don't worry, this show is about so much more than the sport. Honestly, football is pretty much in the background compared to everything else going on in the series. It's about family, love, loss, communities, and growing up, which are all things that each of us are able to relate to.
3. Degrassi: The Next Generation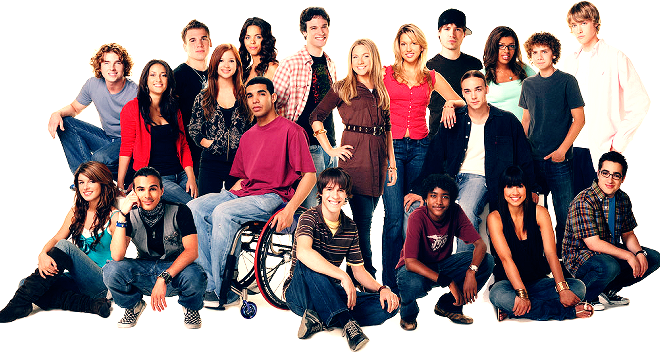 This is yet another guilty pleasure of mine. I never watched the original Degrassi, but I'm a fan of most seasons of Degrassi: The Next Generation and also the new series on Netflix. The main reason why I love this show so much is how real it is. I remember how scandalous some of the episodes were to my fourth grade (and also middle school) self and it honestly ended up teaching me a lot of stuff that I probably wouldn't have learned until much later otherwise.
4. Shameless
So the Gallagher's are the definition of a dysfunctional family. However, this show is still completely addicting to me. I don't know if it's because of all the family drama or because of something else entirely, all I know is that I can't stop watching it. This is an amazing show and I highly recommend it!
5. Veep
This is totally one of the funniest shows I've ever seen honestly. It's one of those shows that you just have to watch to fully understand the greatness of it. The sense of humor is also probably not everyone's thing, it's very dry and dark at times, but I personally love it.
6. Gilmore Girls
This is one of those shows that I can just watch every single episode a million times and still love it just as much as I did the first time I watched it. I just love the characters, the plot, the writing, the acting, and just everything else about it. This is one fabulous show and I can't wait for the new Netflix revival to come out!
7. Sex and the City
Though it's a little out dated now, I still love this show regardless. You just have to love each of these girls for completely different reasons. I'm not even sure which one is my favorite. I love the female friendship, the girls definitely make a wonderful girl gang.
8. Dance Academy
I just watched this less than a month ago, but I had to put this on my list anyways. I watched this entire series in like less than a week, it was simply that addicting, plus the episodes were pretty short. I can't explain how excited I am for the movie, which comes out in 2017!
9. Felicity
I would probably consider this to be a guilty pleasure. I can't really explain exactly what it is about this show that hooked me in, it just somehow did. I definitely wish that I could date Ben and be best friends with Noel.
10. Parenthood
This is an incredibly underrated show about the Braverman family. This is one of those shows that makes you both cry and laugh in only one episode. It will certainly take you through a roller coaster of emotions, but it's well worth it in the end!
11. House of Cards
This show makes me so angry yet satisfied all at the same time. You want to hate Frank and Claire Underwood, but sometimes it feels impossible to do. I find myself wishing that they get caught during one episode, then wanting them to get away with everything the next. This is yet another ridiculously emotionally complicated show.
12. Orange is the New Black
Speaking of emotionally complicated shows, Orange is the New Black is pretty much the very definition of it. That being said, this is a show that also makes me laugh and cry in just one episode. The characters all make me laugh with their pop culture references among other things, but then they make me cry when we get to see a flashback of one of the prisoners and receive more insight into their life before prison. It's a unique and compelling show, that's for sure!
So there were actually a few shows that I ended up leaving off my list, though my "cut" version still had more than ten. Anyway, my honorable mentions go to Entourage, Grey's Anatomy, Scandal, Stranger Things, and The O.C. What did you guys include on your lists this week? I look forward to seeing them!