Top Ten Tuesday is a weekly feature hosted by The Broke and the Bookish. This is a place where you can share all of your lists with other list lovers out there. There's a new theme every week to center your list around. This week, the theme is all about romance types/tropes in TV, books, or movies. I chose to talk about my favorite slow-burn romances from TV. I thought this was an awesome topic, and I'm excited to show off some of my favorite TV couples that I don't get to talk about nearly enough. I look forward to seeing what everyone comes up with for this topic.
1. Luke and Lorelai from Gilmore Girls
Look, Luke and Lorelai are one of my all time favorite TV couples. They are second only behind Coach Taylor and Tami from Friday Night Lights. They are pretty much the sole reason why I wanted to talk about this trope. From the very first episode, it's obvious that these two have some serious chemistry. They continue to fight it and remain just friends for four whole seasons before they finally have their first kiss. Even after that, they have a ton of obstacles that get in the way of things. Aside from all that, we can't deny that they are meant to be and I love them so much.
2. Tara and Christian from Dance Academy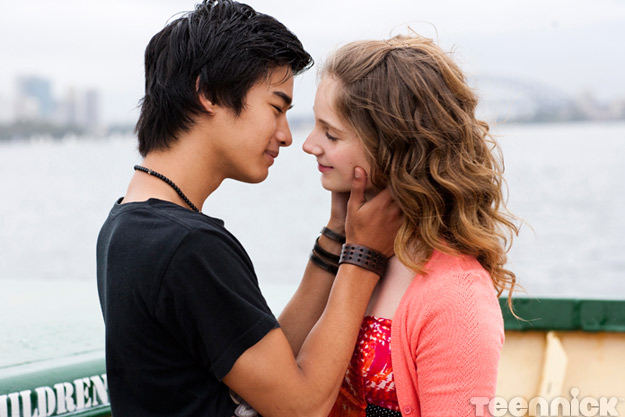 I'm a huge fan of Dance Academy and this couple is a major reason why. They also fit under the category of hate to love and then friends to lovers in a way. In the beginning, I had no clue that they were going to end up together. Although it took them awhile to get there, they eventually found their way and it was magical. I can't wait to see how things end up for them in the movie that's coming out here pretty soon!
3. Jim and Pam from The Office
There's no way that I can talk about TV couples and not include these two. They fit into a ton of tropes over the years, specifically friends to lovers as well. It's pretty obvious that they are going to end up together, but it gets delayed for such a long time due to the fact that she's engaged in the beginning and everything. The chemistry is so electric, and it was such a relief when they finally got married.
4. Chandler and Monica from Friends
I absolutely love Rachel and Ross together too so I wasn't sure who I should include. I went with Monica and Chandler because even though the slow-burn and will they or won't they thing doesn't last as long, it's still definitely up in the air in the earlier seasons. I just thought they were a stronger couple as a whole. I just love them both so much.
5. Peyton and Lucas from One Tree Hill
Though they get together pretty early on, they have TOO many obstacles that get in the way. The whole love triangle between them and Brooke was a dark time for me. We always knew that these two were meant to be together, so all the other relationships that happened felt so pointless.
6. Ben and Leslie from Parks and Recreation
The chemistry between them is so real from basically the moment that Ben shows up. However, there's a lot of complications since he happens to be her boss and everything. They are still yet another cute couple that I adore. I have to admit that Andy and April are my favorite couple on the show, but these two were pretty great as well.
7. Rory and Jess from Gilmore Girls
So I cheated and had to add two from Gilmore Girls. This wasn't totally a slow-burn since the feelings were clear from the start, but they took a ridiculously long time to get Dean out of the picture. I'm honestly still pissed about how things didn't go down between them in the revival, but I'm still holding out hope because I really believe that they make the perfect couple. Jess has really matured since his early days of being a bad boy, and Rory is honestly not all that mature so I think he would help her out. Wow, it's weird how reversed the roles are right now.
8. Seth and Summer from The OC
How can you not adore these two? Ryan and Marissa were clearly hot messes, but these two always had it together for the most part. They were rather dysfunctional at times, but they still balanced each other out. Seth is seriously the most adorable fictional character in the whole world and I'm still not over the fact that he isn't real. I love Seth and Summer and always will.
9. Wade and Zoe from Hart of Dixie
It's pretty obvious that I just really like Rachel Bilson. She was awesome in Hart of Dixie. I was a huge fan of her and Wade together from basically episode one. They were a major slow-burn due to the fact that Zoe had feelings for other people and whatever. I also thought the whole storyline where she was like engaged to someone else was ridiculous. But of course, Zoe and Wade found their way back to each other and it was beautiful.
10. Lydia and Stiles from Teen Wolf
So I'm not even sure if this should be on here. I stopped watching Teen Wolf awhile ago, and last time I checked, Stiles and Lydia haven't even kissed. They've both been with other people for most of the series, but I'm really hoping that they end up together. I find it so adorable how Stiles has had this crush on her for such a long time. I'm going to be depressed as hell if this doesn't happen.
There's my list of some of my favorite TV slow-burn romances. I could honestly keep on going because this was such a fun list to make, but I'll spare you guys. I hope that everyone has an awesome Valentine's Day! Make sure to share your list with me. I hope you guys have a great rest of the week!